What's NBA 2K18 Swishing Right Now?
nba2k18mt
Date: Sep/20/17 03:24:37
Views: 353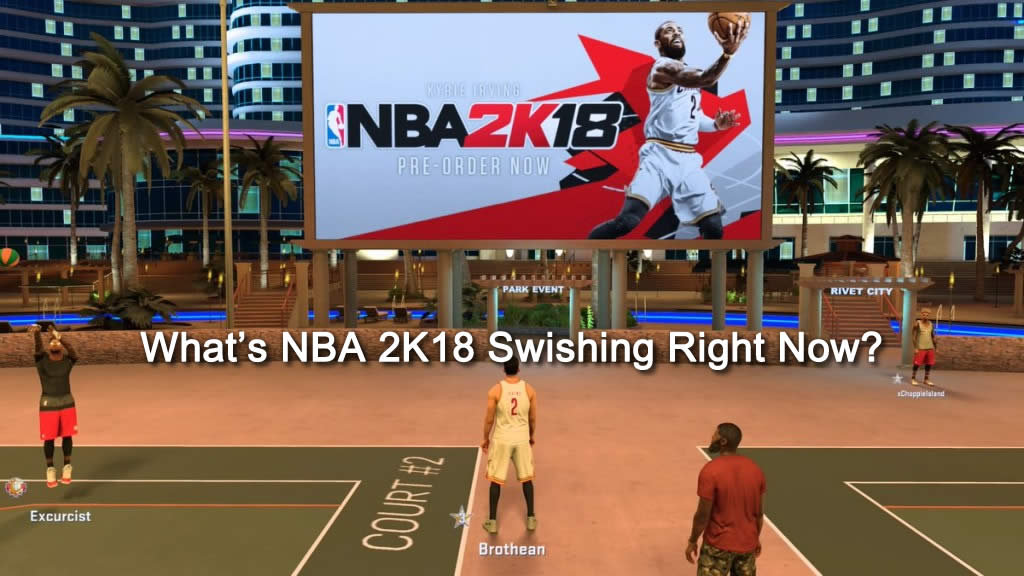 MyGM: The Next Chapter
I can say right from jump that I love the interactive element the 2K team has implemented into MyGM this year. On the surface, it's the same MyGM we've seen in the past albeit with the new roster, and other rule and league changes that were added this year. The real difference maker I've found is how they've updated the interactions and cutscenes for different scenarios. They've also added a good bit that we haven't seen before. Some people aren't big on aesthetics like this, but I've always argued that improving both the mode and the aesthetics to give a better, the complete feel always goes further than improving one area and not the others. The implementation of a "story" into the mode looks like it will add a little extra push to keep MyGM exciting — trust me, you'll get into what's going on pretty quickly.
2KU
For players both experienced and new, I feel that 2KU is a must solely based on the fact that the changes made to refine the controls and AI are things you need to get acclimated with or you'll get your butt whooped. Badly. The controls this year have been fine-tuned quite a bit in a positive way and definitely require a little bit of practice to get used to. While some players will be wizards on the sticks and will pick up the changes in as fast as a game, most might have to get some time in. The defense has also received an overhaul and is, in my opinion, more complicated yet more rewarding. You're on your own this year, so sometime in 2KU will help you out on the defensive end as well.
Presentation/Graphics
NBA 2K18 looks good. The graphics, player models, faces, arenas, and even the crowd have all been improved by the 2K team again. I really spent my first 10 minutes with the game admiring how everything was looking on and off the court. The presentation packages have been improved over last year as well, adding in small things here and there that most might not notice at first, but when you do notice them you'll really appreciate the attention to detail placed by the dev team. Ernie, Shaq, and Kenny have all gotten an upgrade in appearance and look better than last year. At end of game interviews, players stand with a towel draped around their neck (depending on the player; Danny Green is always draped up in a towel when he's not on the court) and this is just one of the many times where the graphical improvements shine. The player detail and facial emotions as they talk to David Aldridge are a thing of beauty. Speaking of David Aldridge, his player model and facial detail are 100 times better than last year; you're actually looking at an exact virtual version of the courtside icon himself. You'll even see the copyright messages that are shown at the end of games like on TV. All in all, it's another step toward giving us a complete package.
Gameplay
I won't touch on this too much just yet as I'll dig into it a bit more in a later piece, but the game plays very smoothly. The refinement of the dribbling system is fantastic. I noticed that there was some reworking in how contact and that kind of thing happened, as there were a few illegal screen calls made on the opposing team when I was playing defense; call me crazy, but I don't remember seeing that much last year. It was a welcomed sight to see. I played a quick game against the Spurs and Gregg Popovich's ACE system was in full effect. Spurs basketball was unfolding before my eyes, and all I could do was watch mercilessly as they worked my defense almost at will. Yes, it was partial because I was in awe of the beauty of their system happening effortlessly in my face — and because I've still got some work to do at 2KU. Gameplay is as smooth as ever this year.
NBA 2K18 Makes Practice Fun
One of the things that many of us here at NBA2K18MT.com and many of you did not like about NBA 2K17 was how tedious and boring practice was in My Player. It felt like such a chore, but it was something that you had to do in order to make your player better, in general, it was just a huge pain in the butt!
Fast Delivery
Our delivery team work 24/7 to make the delivery so we can usually complete your order in a very fast time.
Cheap Price
We do price check everyday in the whole market and we promise to make the prices as cheap as we can.
7x24 Support
NBA2K18MT.com has a group of professional customer service team who work 24/7.
Refund
In the process of purchase, if we do not fulfill the customer's order on time, a refund will be granted. The refund will be issued immediately!