NBA2K18MT | Five Suggestions For NBA2K18
nba2k18mt
Date: Feb/15/17 19:57:47
Views: 503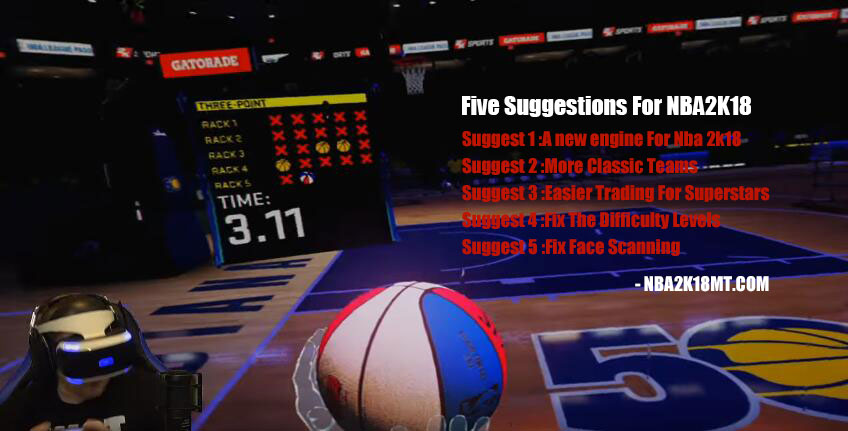 Suggest 1 :A new engine For Nba 2k18
NBA2K 17 looked really fresh thanks to the new Frostbite Engine and it seems that NBA 2K18 could use a similar facelift as well. Player and crowd movements just feel stale, so do the graphics and the animations.so it's understandable that 2K Games became a little bit lazy. A new engine would allow it to look even better.
Suggest 2 :More Classic Teams
This entry has already been covered in a previous list, but it's always good to remind everyone about the need for other classic match-ups apart from those available in the game. From the 1977 Portland Trail Blazers to the 2008 Denver Nuggets, it's always fun to measure up teams of the past with present ones.
There were a lot of special teams in NBA history. Some failed because of chemistry issues, others enjoyed that one special season when everything clicked.
What better way to honor them then allowing their ageing fans to relive the days of hope and/or glory on the virtual court?
Suggest 3 :Easier Trading For Superstars
In 2004 Vince Carter was traded to the New Jersey Nets for a sick Alonzo Mourning, Aaron Williams, Eric Williams and two first round picks. In 2013 the Nets were this time on the wrong side of the trade, as they got ageing Kevin Garnett and Paul Pierce for five players and three first round picks.
Good luck recreating these trades in MyGM!
The problem with trading in this mode is that it is impossible to get one player for three, let alone two for five and some picks. Granted, during the course of the season you're able to do some interesting trades, but every time you've got to sacrifice a superstar for a superstar. That's not always the case in the NBA.
Suggest 4 :Fix The Difficulty Levels
How many of you have witnessed it before: at Pro you're winning by 20 points, usually crashing your opponents in the fourth quarter, whereas at All-Star you're getting trashed and turn off the game with no desire of ending it?
This needs a serious upgrade in all of sports games, as it is happening in FIFA as well - going from 5:0 to 0:2 when stepping up just one level is just ridiculous.
Of course you can edit sliders and fit the game to your level, but ultimately, that just feels like cheating. And please, do something with reaching fouls while we're at it! Not every steal attempt must end with a call, you know?
Suggest 5 :Fix Face Scanning
With face scanning available with your cell phone, the process should be much easier than with the PS camera, but it turned out to be more of the same. Scanning still took way too long and the results were rather disappointing, as the face creation tended to jam at some point and the process needed to start again.
Maybe it would be better to go with the old "attaching-your-picture-to-the-template-face" method? This would allow for a less frustrating and time-consuming way of appearing in the game. The face doesn't have to be ideal, making it similar is good enough.
Fast Delivery
Our delivery team work 24/7 to make the delivery so we can usually complete your order in a very fast time.
Cheap Price
We do price check everyday in the whole market and we promise to make the prices as cheap as we can.
7x24 Support
NBA2K18MT.com has a group of professional customer service team who work 24/7.
Refund
In the process of purchase, if we do not fulfill the customer's order on time, a refund will be granted. The refund will be issued immediately!