2K announced a partnership with Nike's new NikeConnect
nba2k18mt
Date: Sep/23/17 02:37:19
Views: 299
2K announced a partnership with Nike's new NikeConnect – an unlock to real-time, personalized experiences activated through the combination of the jersey, a smartphone, and the NikeConnect app.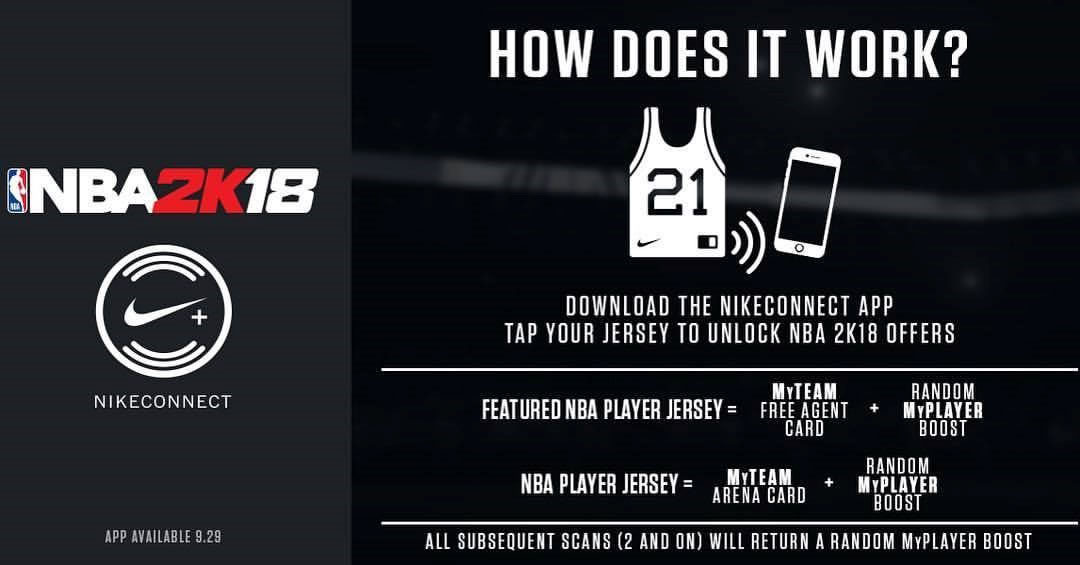 The groundbreaking technology represents the first time that premium NBA content can be accessed through interaction with apparel. By simply tapping an NBA jersey with the NikeConnect app, NBA 2K18 fans can now reap the rewards in-game with free MyTEAM cards and random MyPLAYER boosts.
Here's a quick step-by-step guide to using the Nike NBA jersey with NikeConnect and NBA 2K18:
1. Get the all-new Nike NBA jersey with NikeConnect at a retailer near you.
2. Download the NikeConnect app, available for iOS 11 and Android.
3. Tap your smartphone on the tag at the bottom of your Nike NBA jersey.
4. Unlock exclusive NBA 2K18 offers!
The NikeConnect app will be available on September 29.
Look Out For Fake NBA 2K18 Hacks!
Already if you are looking for NBA 2K18 tips online you are going to find a lot of videos that will claim they can make it so you can get money for nothing.
You will get refund and 50K additional VC
If you want a refresher of what exactly the reimbursement is or see the statement from 2K, see yesterday's post.Remember, the VC refund + 50K additional VC is INSTEAD of a player clone.
Fast Delivery
Our delivery team work 24/7 to make the delivery so we can usually complete your order in a very fast time.
Cheap Price
We do price check everyday in the whole market and we promise to make the prices as cheap as we can.
7x24 Support
NBA2K18MT.com has a group of professional customer service team who work 24/7.
Refund
In the process of purchase, if we do not fulfill the customer's order on time, a refund will be granted. The refund will be issued immediately!